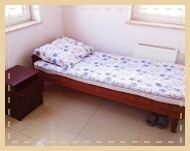 We are pleased to present an offer for a single room.
We have six rooms equipped according to the type of Single. Each of the rooms is located in spacious premises with an area of 17 m2, divided into sleeping room and a bathroom.
A bedroom has a single hotel bed and cupboard for things pop. In addition, the room has a dining area having supplied a table, a chair, an electric kettle and basic utensils edible. Bathrooms in the Deluxe Single are equipped with toilets and showers.
There are also areas having offered an additional flat-screen TV. Please be advised that the choice of a room with access to television programs is a surcharge.
Wolka Kosowska hotel also provides guests with free access to wireless Wi-Fi network, which can use in any room of the Hotel.